On Your Bike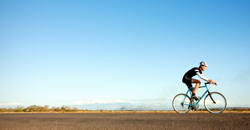 Where the rubber hits the road
I am a passionate cyclist and a firm believer in static and road bike training.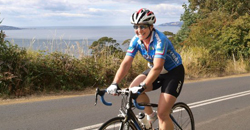 But I am also very aware of the fact that cycling will not suit everyone. I would certainly not recommend cycling to people who may have mobility issues, an injury to a leg or a bad back but for everyone else I think it's a terrific aerobic and low impact component of your fitness régime.
I offer a wide range of bike training, both in the gym and on the road. I have an introductory short course to road cycling and I cover the basics from selection of equipment to strategies for road safety. I can help you find a cycling route in your area that will present a moderate challenge from which to gain confidence. As you advance in experience I can introduce you to a group of like minded riders. I certainly advocate that there is safety in numbers on the open road but equally I believe that you can enjoy safe riding on your own with some planning and common sense.
I've been a cycling enthusiast for the past three years and I have participated in a number of on road challenges. If this is something that you want to train up for, I am able to design a training regime that will give you the preparation you will need.
Feel free to email me or phone me for more information on cycling as a major part of your health and fitness routines.