Who is Manu Iseppi?
Ok everyone, this is how you say it: " Mar-noo". Not "Man-you" ... not Money ... though that would be nice, thanks!
Manu is short for Emanuela and yes, you are right! It's Latin for "the angel that brings good news".
I'm the angel who is about to bring you good news about fitness. I'm indeed Italian (while we are on it you pronounce my surname like this: E-seppi ) and I have been living in Australia for over 30 years.
I like to think that I have kept the best bits of Italy in me and combined it with the best bits of Australia, but no thongs sorry, unless they are "Leather + Valentino".
My two passions in life are family and food, but I strongly believe that fitness has made my life complete in addition to my two passions. No matter what age, no matter what shape; fitness is a way of life, and a way to enjoy life to the fullest. It's about being real and realistic ... this is what I want to share with you.
Partner John, son Ric and daughter-in-law Leah make up our little family, all into food, all into fitness!!
We cook fresh food almost every day, and we do have time when we are all in the kitchen, like when we are making gnocchi or tiramisu. For us as a family cooking fresh food and eating together is very important.
My message is food is there to be really enjoyed and shared and there is a place on every dining table for all kind of food, treats included!
As a child in Italy my family had a veggie patch as well farm animals and we enjoyed a wide range of home grown fresh foods inlcuding fresh milk and eggs. Food plays an important role in everyday life in Italy. Mealtimes are about being with family and friends, sharing the things that sustain us and celebrating our relationships.
This experience taught me that eating well is one of the most important things in life, for life.
My family, like most, unfortunately has a history of chronic disease. My dad suffered from lung cancer, mum with type 2 diabetes, my sister with breast cancer, my brother with prostate cancer and my younger sister MS. This history of family illness is a tragedy but I really value giving myself the healthiest lifestyle I can. As I get older it is so much more important to stay fit, healthy and strong. I know I can teach this to others.
I absolutely love riding my bike outdoors and thanks to a great bunch of cycling freinds I have explored a number of "friendly" hills around the south of Tassie. We also like spending a bit of time having a coffee or 3 after the ride.
I love teaching groups and seeing the individuals interact, working together and having fun at the same time.
I LOVE one on one personal training and I love how truly personal it is.
Remember, "it's not just about the exercise."
My Qualifications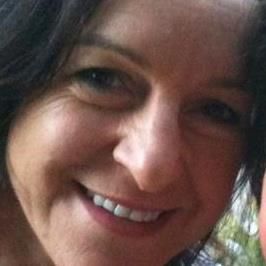 Diploma of Business HR, Diploma of Business Management, Fitness Australia Certificate-Level 3 Professional, Registration number 15684 exp: 30/6/2020
• Gym Instructor, • Personal Trainer, • Yin Yoga Teacher, • Older adult trainer, • Punchfit Certificate (boxing), • Network Pilates Certificate, • Wellness Coaching Australia Certificate, • Cycling Certificate, • Zumba qualified, • Fitball qualified • AKBL Kettlebell Trainer Level 1